Warning! Do NOT Download Without a VPN!

Your IP Address is

34.203.225.78

. Location is

United States

Your Internet Provider and Government can track your download activities! Hide your IP ADDRESS with a VPN!

We

strongly recommend using

a VPN service

to anonymize your torrent downloads.

It's FREE!

START YOUR FREE TRIAL NOW!
New EU Piracy Watchlist Targets Key Pirate Sites and Cloudflare
Following the example set by the United States, the European Union has published its very first 'Counterfeit and Piracy Watch List'. The European Commission report targets a broad range of alleged 'pirate' sites in the BitTorrent, cyberlocker, stream-ripping spaces, encouraging law enforcement and network players to help stymie their activities.




In recent years the Office of the US Trade Representative (USTR) has released several reports detailing "notorious markets" that contribute to large volumes of copyright infringement worldwide.

The annual reports are aimed at guiding the U.S. Government's position towards foreign countries where these sites and services are located. With a focus overseas, US-based platforms are not included.

Earlier this year the EU announced that it would be following the example set by the United States by producing a similar report of its own.

"The list will identify...

Read entire story Today at TorrentFreak
Scammers Use Facebook and Google to Spread Malicious 'Pirate' Files
Scammers and spammers are using user-generated content sites to distribute links to malware and viruses. The malicious content is advertised as pirated software and games, in an attempt to lure users. The issue is plaguing many platforms but appears to be rather persistent on Facebook and Google groups.




Last weekend we reported how scammers were sending DMCA notices to downrank game piracy sites.

Presumably, this was done to give their malware-infested pirate sites a better ranking in search results.

While our previous article focused on the abuse of takedown notices, the problem is much broader. In addition to removing content, scammers are also spamming many sites with messages that link people to their dubious pirate sites.

We spoke to a source who has followed this activity for quite a while and actively reported spam he found on medium.com, change.org, wattpad....

Read entire story Yesterday at TorrentFreak
IFPI Slams Pirate MEP For 'Lobbying' Kids, Forgets a Decade of Rightsholders Doing Just That
Yet another war of words on Twitter over Article 13 has delivered one of the great ironies of recent times. After Pirate MEP Julia Reda called on kids to 'lobby' their parents over the controversial legislation, she got a "shame on you" from IFPI for "manipulating minors". Trouble is, the entertainment industries have been doing the same for well over a decade.




As the controversy over the EU's Article 13 proposals continue, Twitter appears to be the communications weapon of choice for parties on both sides.

While the debate has often been well thought out and considered, at times it has descended into a chorus of potty-mouthed name-calling that at times has proven embarrassing to read. But that's the Internet, of course.

As one of the main opponents of Article 13 and in particular its requirement for upload filtering, Julia Reda MEP has been a frequent target for proponents. Accused of being a YouTube/Google shill (despit...

Read entire story Yesterday at TorrentFreak
Showbox: Is it 'Back' and More Importantly, is it 'Safe'?
Users of Showbox will no doubt be aware that the popular streaming tool has been under fire recently, targeted by lawsuits that shut down various websites and the app itself. The Internet is now buzzing with news of a return along with the inevitable question "But is it safe?" It's a difficult, if not impossible, question to answer.




As first reported here on TorrentFreak, popular streaming application Showbox hit turbulent times recently.

In May we revealed that a group of independent movie studios (Dallas Buyers Club, Cobbler Nevada, Bodyguard Productions, and others) were targeting sites and individuals said to be behind or offering Showbox.

Back in September, a DMCA subpoena filed by the same companies ordered Cloudflare to expose the people linked to various sites offering the application.

It is important to know that the companies behind this request are known serial litigants and have been in...

Read entire story 12/8/2018 at TorrentFreak
Bizarre Blocking Order Targets 'Pirate' Domains Before They're Registered
Last week an Indian court issued one of the broadest site-blocking injunctions to date. To prevent the film "2.0" from being pirated by the masses, the Madras High Court ordered local ISPs to preemptively block 12,564 domain names. TorrentFreak can now reveal that this order only targets 16 websites and that most of the listed domains are not even registered.




Website blocking is without a doubt one of the favorite anti-piracy tools of the entertainment industries.

India is no stranger to this measure either. Over the years, local courts have issued a variety of blocking orders, often to protect films upon their initial release.

This also happened last week. Following a request by Lyca Productions, the company behind the film "2.0," the Madras High Court ordered 37 local ISPs to block access to a list of 12,564 domain names, should that be necessary to stop the film from being pirated.

When the news broke it was u...

Read entire story 12/8/2018 at TorrentFreak
GTA V's Take-Two Wants $150,000 in Damages From Cheat Maker
Rockstar Games' parent company Take-Two Interactive has filed a motion for default judgment against the alleged creator of the "Elusive" GTA V cheat. The company estimates that the cheat has caused severe harm, and requests $150,000 compensation, the maximum statutory damages for copyright infringement.




Over the past year there has been a wave of copyright infringement lawsuits against alleged cheaters or cheat makers.

Take-Two Interactive Software, the company behind 'Grand Theft Auto V' (GTA V), is one of the major players involved. The company has filed several lawsuits in the US and abroad, targeting alleged cheaters.

In August the company filed a case against Florida resident Jhonny Perez, accusing him of copyright infringement by creating and distributing a cheating tool. The software, known as "Elusive," could be used to cheat and grief, interfering with the ga...

Read entire story 12/7/2018 at TorrentFreak
Huge Torrent Tracker Calls it Quits After 12 Years, Citing Article 13
Leechers Paradise, one of the world's longest-standing and most important BitTorrent trackers, has shut down for good. Launched 12 years ago, the site was recently coordinating the transfers of 132 million peers but now, with the EU's Article 13 legislation looming, its operator says its time to close before the platform is rendered illegal.




Torrent sites come in all shapes and sizes. Most are known for being indexes of .torrent files or magnet links which facilitate access to various types of media. When these sites specialize in indexing copyrighted content, the law in most developed regions (particularly the EU) renders them illegal.

However, some torrent platforms operate almost completely in the shadows, not necessarily by design, but because of the important services they provide exist almost exclusively behind the scenes.

Most people who regularly load a torrent file or a magnet link into a torrent client w...

Read entire story 12/7/2018 at TorrentFreak
Just Cause 4 Cracked a Day After Release – But it Gets Worse
The much-anticipated action-adventure game Just Cause 4 was released on December 4, protected by Denuvo. On December 5, cracking group CPY posted the game online, Denuvo defeated. While this is yet another hammer blow to the anti-tamper system, the game is currently 'enjoying' a review average of just 5/10 on Steam, which could exacerbate the problems.




After being acquired by anti-piracy company Irdeto earlier this year, it was expected that anti-tamper technology company Denuvo would go on to even bigger things.

Instead, the anti-tamper protection is being subjected to a barrage of cracking activity.

With a recent announcement detailing the importance of protecting AAA titles if only for a couple of weeks, the company appeared to be lowering expectations of a longer piracy-free period. Now, however, even those aspirations have been shattered following the release of Just Cause 4.

This long-anticipated AAA action-adv...

Read entire story 12/6/2018 at TorrentFreak
Major Rightsholders Are Not Happy With Article 13 Either
Several prominent representatives of the audiovisual and sports sectors, including the MPA and the Premier League, are not pleased with the current Article 13 proposals. Their objections don't concern the possibility of upload filters, but with potential new liability shields for large Internet services, which they say will only gain power at the detriment of copyright holders.




In a plenary vote in September, the European Parliament backed the controversial Article 13 proposal, which is part of EU's copyright reform plans.

The outcome was welcomed by many copyright holders, particularly in the music industry.

"This vote is great news for music fans and for anyone who values exciting and original online entertainment. It's an important step towards creating a fairer internet that encourages and rewards creativity," BPI's Geoff Taylor said at the time.

The vote was not the end of the process though. The final text ...

Read entire story 12/6/2018 at TorrentFreak
Three Sentenced For Placing Advertising on Pirate Sites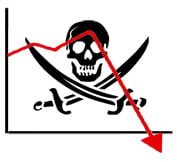 Three employees of an agency that placed adverts on pirate sites have been handed suspended prison sentences in Germany. After brokering ad space on popular piracy portals including kino.to and iload.to, generating profits of more than 350,000 euros in the process, the individuals were found guilty of aiding and abetting copyright infringement.




While there are several business models that are able to keep pirate sites up and running, advertising is one of the most popular.

With huge amounts of traffic landing on both torrent and streaming platforms, even with low-quality adverts it's possible for both site owners and advertising companies to generate decent profits.

Until now, pirate site operators have been the main targets for law enforcement agencies but a recently concluded case in Germany shows that the authorities are prepared to extend their reach when required.

According to Germany-based anti-pir...

Read entire story 12/6/2018 at TorrentFreak