Immortals (2011)(BRRIP)(1,5GB)(nlsubs Ext)(Xvid)-TBS
Torrent Details
Name:
Immortals (2011)(BRRIP)(1,5GB)(nlsubs ext)(Xvid)-TBS.torrent
Status:

| | |
| --- | --- |
| | This torrent has been verified to be real and without virusses. |

Category:
Movies
Size:
1.6 GB in 13 files
Added:
Uploaded on 17-02-2012 by our crawler pet called "Spidey".
Swarm:
0 seeders & 0 leechers
Vote:
You got to be logged in to vote for this torrent.
Rating:
No votes yet.
Torrent Download Locations
Torrent Description
Immortals (2011)
Verenigde Staten
Actie / Fantasy
110 minuten
geregisseerd door Tarsem Singh
met Henry Cavill, Mickey Rourke en Freida Pinto
Dutch:
De bloeddorstige koning Hyperion (Mickey Rourke) laat met zijn leger een spoor van vernietiging achter in het oude Griekenland. Hyperion is op zoek naar de boog van Epirus. Daarmee wil hij de Goden van Olympus omverwerpen en zichzelf tot heerser van de wereld kronen. Een door Zeus (Luke Evans) uitverkoren sterfelijke, Theseus (Henry Cavill), moet het gevecht tegen Hyperion leiden. Met de hulp van het orakel Phaedra (Freida Pinto) verzamelt de jonge krijger genoeg mannen om zich heen om het op te nemen tegen de verraderlijke koning en zijn leger.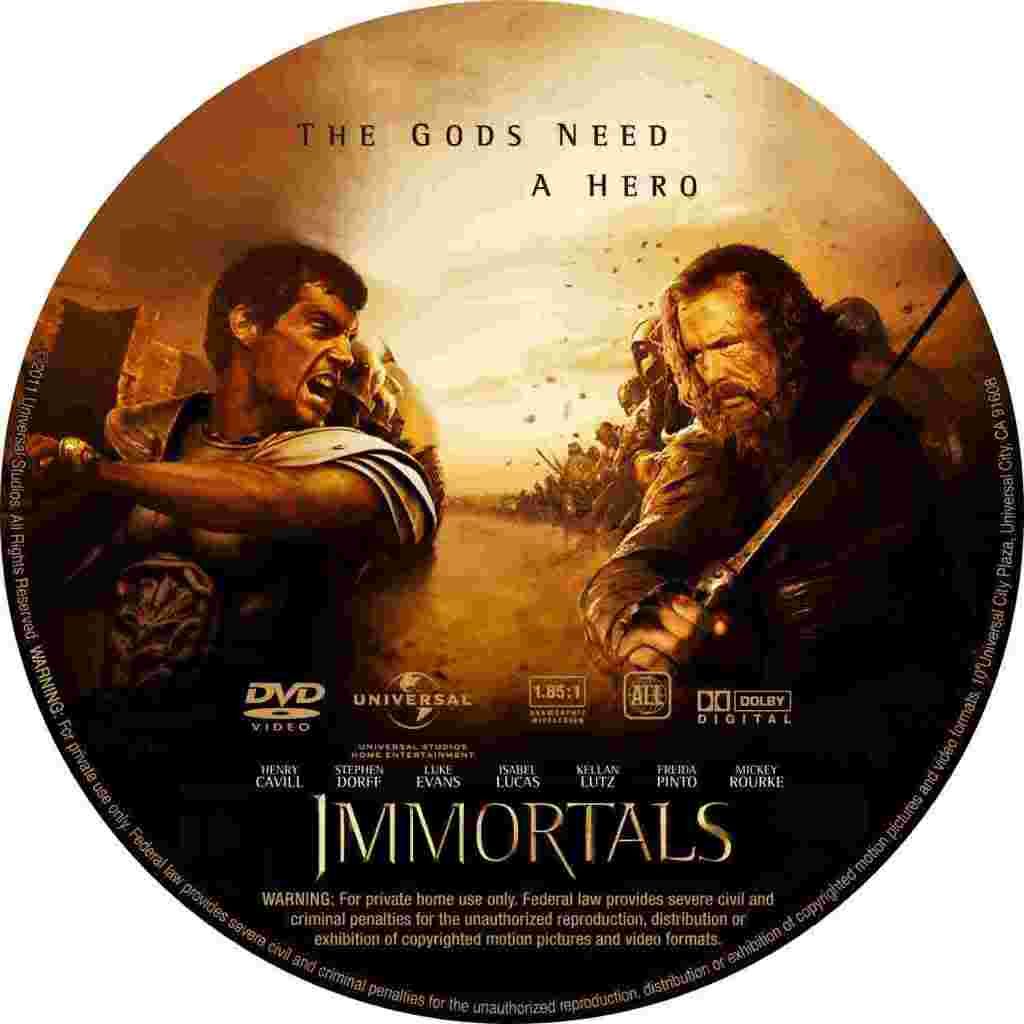 English:
Eons after the Gods won their mythic struggle against the Titans, a new evil threatens the land. Mad with power, King Hyperion (Mickey Rourke) has declared war against humanity. Amassing a bloodthirsty army of soldiers disfigured by his own hand, Hyperion has scorched Greece in search of the legendary Epirus Bow, a weapon of unimaginable power forged in the heavens by Ares. Only he who possesses this bow can unleash the Titans, who have been imprisoned deep within the walls of Mount Tartaros since the dawn of time and thirst for revenge. In the king's hands, the bow would rain destruction upon mankind and annihilate the Gods. But ancient law dictates the Gods must not intervene in man's conflict. They remain powerless to stop Hyperion...until a peasant named Theseus (Henry Cavill) comes forth as their only hope. Secretly chosen by Zeus, Theseus must save his people from Hyperion and his hordes...
**********************************
Info:
Movie..............: Immortals (2011)
Genre..............: Actie / Fantasy
Source.............: Immortals 2011 720p BluRay X264-BLOW
Runtime............: 110 min.
Subtitles.NL.......: Vertaald door Jesprulin & Suurtje Thnx Team Good Job *****
Controle...........: Jesprulin en Suurtje
Bewerking+Resync...: Jesprulin en Suurtje, Klasse werk collega's, THANX !!!!
SIZE............: 1495 MB
FORM............: AVI
VIDEO CODEC.....: XVID
HOOGTE..........: 720
BREEDTE.........: 384
AUDIO...........: Engels
AUDIO CODE......: AC3
BITRATE.........: 448
CHANNELS........: 6
SUBTITELS.......: NL EXTERN
http://www.moviemeter.nl/film/66621
http://www.imdb.com/title/tt1253864
@@@@@@@@@@@@@@@@@@@@@@@@@@
Discussion
0 Responses
There are no responses yet
Add your Response
To post your comment to this torrent, please
login to our site
.
Torrent Files
Size
Covers/66621.jpg
25 KB
Covers/Cover.jpg
237.9 KB
Covers/Label.jpg
56.7 KB
INFO TBS/Black-Sam.txt
128 B
INFO TBS/Immortals (2011).txt
2.5 KB
INFO TBS/Read.Me.1st.[Movie-Torrentz].txt
2 KB
INFO TBS/Torrent Downloaded from SilverTorrents.me.txt
175 B
INFO TBS/Torrent_downloaded_from_AhaShare.com.txt
272 B
INFO TBS/Torrent_downloaded_from_Demonoid.com.txt
262 B
INFO TBS/Torrent_downloaded_from_www.puretorrents.cc.txt
36 B
INFO TBS/www.black-Sam org Kom eens Langs !.jpg
13.1 KB
Movie/Immortals (2011) BRRIP DD 5.1 1.5 GB XVID EXTERNE SUBS-TBS.avi
1.6 GB
Movie/Immortals (2011) BRRIP DD 5.1 1.5 GB XVID EXTERNE SUBS-TBS.srt
46.6 KB